GF8 adjustable thread channel pressure reducing valve application
GF8 adjustable thread channel pressure reducing valve
Pressure reducing valve: inlet 12, outlet 8 12 * 8

. Under 3MP pressure, 50 ml / min startup flow can be obtained, which is convenient for test furnace debugging;
. The adjustment handle feels particularly good, the switching torque is less than 0.05 N * m;
. Use absolutely safe;
. Service life is more than 5 years;
. Adopting joints, all working parts can be disassembled and disassembled, which is very convenient for loading, unloading and cleaning;
Threaded channel pressure reducing valve has 9 models from GF1 to GF9. The commonly used type is GF8, which is called adjustable threaded channel pressure reducing valve. GF9 is called full-automatic constant flow pressure reducing valve. National Patent).
. Decompression effect: After the sample water flows through GF8, the pressure drops below 0.4MP;
. Adjust the flow: Rotate the handle in the range of 720 degrees to obtain a stable flow of 0 ~ 3500ml / min, which completely solves the following three problems:
a. The flow adjustment is too sensitive, and the flow is not easy to grasp (while the GF8 is adjustable in the range of 720 degrees, the flow is well grasped);
b. The flow is unstable (while the GF8 flow is adjusted, it will not change with time);
c. Unable to obtain large flow rate (while GF8 flow rate can be adjusted up to 3500 ml / min);
Decompression effect: After the sample water flows through GF8, the pressure drops below 0.4MP;
. Adjust the flow: Rotate the handle in the range of 720 degrees to obtain a stable flow of 0 ~ 3500ml / min, which completely solves the following three problems:
a. The flow adjustment is too sensitive, and the flow is not easy to grasp (while the GF8 is adjustable in the range of 720 degrees, the flow is well grasped);
b. The flow is unstable (while the GF8 flow is adjusted, it will not change with time);
c. Unable to obtain large flow rate (while GF8 flow rate can be adjusted up to 3500 ml / min);
The adjustable thread pressure reducing valve is an important pressure reducing valve in the peak shaving unit. The commonly used is the GF8 pressure reducing valve.
The GF8 pressure reducing valve can reduce the pressure from 320 kg to less than 4 kg. At 3MP pressure, it can obtain a starting flow of 50 ml / min, which is convenient for test furnace debugging;
. The adjustment handle feels particularly good, the switching torque is less than 0.05 N * m;
. Use absolutely safe;
. Service life is more than 5 years;
. Adopting articulated connection, all working parts can be disassembled and disassembled, which is very convenient for loading, unloading and cleaning.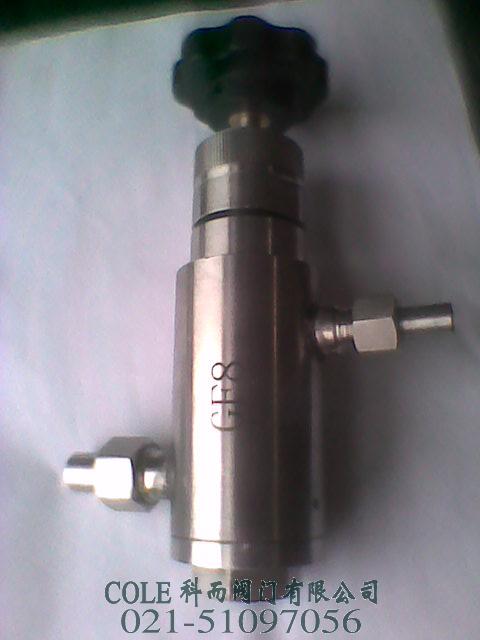 Shanghai
Keer
Valve Co., Ltd.
www.kerfm.cn All
rights reserved, please indicate the adjustable thread channel pressure reducing valve
Prev: ZBSF all stainless steel solenoid valve, ZBSF stainless steel solenoid valve Next: Uses and characteristics of flat high pressure gate valve